Updated 12/1/2019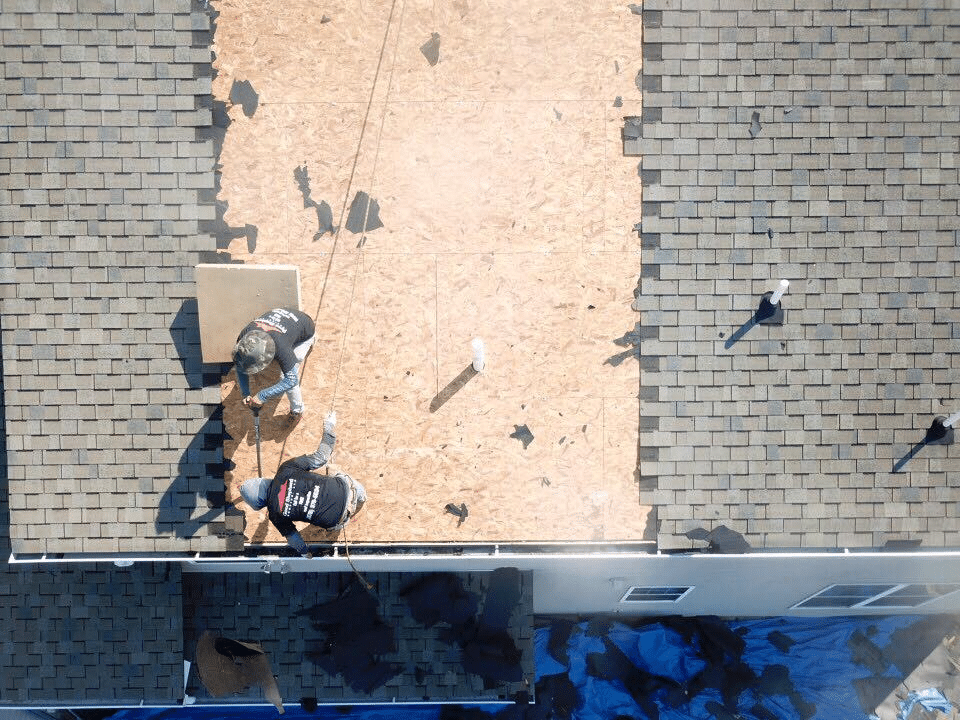 High winds associated with storms, and particularly hail, can be devastating to your home's roof.
Adding on to the stress of potential damage to your home is the anxiety many people feel when they need to contact their insurance company regarding a potential claim. We at GSR have heard from homeowners their fear that they would be canceled from their insurance company for even starting a claim.
First and foremost it is important that you don't start a claim for a roof that has not been damaged. Call a competent professional like Good Shepherd Roofing, or others, and have your roof inspected. Before you select a professional look for these 5 Red Flags to Look For in a Roofing Company.
Once you've verified damage, you have every right to call your insurance company and make a homeowner's claim. Most homeowners pay approximately $1000 or more per year to keep their home properly insured. This money is paid to cover for the unexpected.
1. Look for Damage Immediately After a Storm
,
If you suspect your roof is damaged, ,call a reputable and licensed roofing contractor to inspect your roof. Keep in mind that even if your roof looks intact from the outside, there could be significant internal damage that only ,a trained roofing specialist can identify.
Some insurance policies have stipulations that detail how long you can wait after the damage has occurred to your roof and still have the damage covered under your insurance policy. After a severe storm and as soon as it is safe to do so, ,have your roof inspected.
You May Also Like: What to Ask a Roofing Contractor During a Roof Inspection
2. Document Damage with Pictures and Detailed Notes
,
An ,experienced roofer will know where to look for damage and will be thorough in documenting the damage and how extensive it is. They will often take pictures of damaged areas and submit to you a written explanation of what needs to be repaired and the estimated cost to repair.
In some cases, you may have roof damage that is not major enough to warrant an insurance claim and in this case, your ,local roofing contractor can work with you to plan how to repair your roof. In other cases, you will need to get your homeowner's insurance company involved and will need to provide proof of damage, including measurements, the events of that caused the damage, and dates and times the damage occurred.
It is always good practice to take periodic pictures of your roof, especially after maintenance has been completed. Be sure the images are clear and well labeled with the date and time. If possible take several pictures from various angles to accurately show the entirety of your roof and the state of your shingles. This way you can make a more compelling argument and will have visual proof to justify that the damaged areas were not present before the weather event and were a direct result of the weather event.
, ,,
3. Contact Your Insurance Company and Check Your Policy Coverage
,
When dealing with extensive roof damage, be sure to contact your insurance company immediately. If you wait too long, you may not be able to submit the claim. Always have a current policy of your homeowner's insurance handy to review to see what statute of limitations may be in place for reporting damage and what types of roof damage are and are not covered. Keep in mind that some homeowner's policies have additional guidance detailing the amount of damage that will be covered.
For inspections, if your roof is more than ten years old, your insurance company may only cover a portion of the roof replacement cost, based on the depreciated value of your roof. If you are ever unsure of the exact roofing insurance coverage you have, contact your insurance provider.
You may also like: How Recoverable Depreciation Works
When you submit your ,roof insurance claim, an insurance adjuster will be sent to inspect the damaged areas and determine the ,cost that the insurance company will pay out to repair or replace your roof.
4. Choose a Roofing Contractor with Insurance Expertise
,
Assuming your roof insurance claim is covered under your existing homeowner's policy, you will be given funds to repair the damage. You can choose the roofing contractor to complete repairs or replace your entire roof, whichever was stipulated from the adjustment that was done. When selecting a ,reputable contractor, be sure to ask for references and only use licensed and insured roofing professionals. Not every roofing contractor will provide insurance claim assistance while others may have insurance adjusters on staff to help you with every detail of your roof damage claim.
At Good Shepherd Roofing, we are roof replacement specialists who will work with you to make sure your claim is submitted promptly, and you can get the maximum reimbursement for your roof replacement.
,
5. Keep an Eye Out for Contingency Contracts
Most roofing contractors will provide a ,free roof inspection and a free roof replacement estimate. However, watch out for contingency contracts that may be disguised as inspection reports. By mistakenly signing one of these contracts you are agreeing to give the job to that roofing company if your insurance claim is approved.
Remember, when you are gathering estimates, you should not have to sign anything. If you are pressured into signing something, it is a tell-tale sign that it is time to pursue a more ,trustworthy roof replacement contractor. Checking the better business bureau website and selecting only those roofing companies that have an A- or better rating is a good way to narrow down your list of options to only those ,roofing professionals who are capable of doing quality work.
You May Also Like: ,5 Red Flags to Look Out For in a Roofing Company
Getting ,roof damage covered by your insurance company can be a tedious and lengthy process. By partnering with a certified and well-known roofing contractor, they can work with you to make sure your roof damage is submitted correctly to your insurance company and the roof replacement is done quickly and accurately. The roof replacement experts at ,Good Shepherd Roofing are well versed in handling roof insurance claims and restoring your home back to its original glory.
If your roof was damaged by a severe weather event, call our inspection team at 1-833-GSR-ROOF (1-833-477-7663). We will quickly schedule a free roof inspection and help you get the recovery process started.
Simply fill out the form below and a customer service representative will be in touch with you shortly.